Monday 18 November, 2019 by Sian PankhurstThe first our a new regular platform for young people in the Catholic and Earthcare space. You'll find reflections, insights, reviews and thoughts shared by young leaders and changemakers on the environment, climate change and what it means to 'live Laudato Si'.First in our new blog series is Sian Pankhurst, a 20-year old sociology student from Notre Dame with a passion on sustainability, the environment and how social media influences our perceptions of the natural world. Sian will be exploring key concepts of racism, justice and sustainability, and Catholicism from a 'green lens'. 
What is environmental racism?
Climate change is not just about the environment. It also must take into consideration those who are the most affected by it. Issues such as rising sea levels, intensified extreme weather events, shifting climate air quality and water quality – are usually concerned with the environmental impact. However, another avenue to take is to look at the people most affected by these environmental costs. Academic writing, international and NGO reports, and those working in social justice discuss the characteristics of these climate-impacted communities: lower socioeconomic position, people of colour and those in the global south, are more disproportionately impacted by climate change. Unfortunately, there is limited research on the impacts of race and class in relation to climate change. However, we'll aim to discuss what is going on and why these communities deserve a voice in these debates. We're going to discuss how a key social sciences theory –environmental racism– can explain what is going on with these communities, and explore how Laudato Si' can help us respond.
Environmental racism is a term commonly used within social sciences, which in short explains how people of colour, those in the global south, rural communities and the impoverished are usually disproportionately affected by climate change related issues (Mayhew-Bergman, 2018). The concept grew from the civil rights movement in North America. African-American activists discovered that neighbourhoods with a majority Black population were used as dumping grounds for toxic waste disposal. This created the assumption that these communities were unfairly targeted due to racism and prejudice against a perceived and actual lower socio-economic community.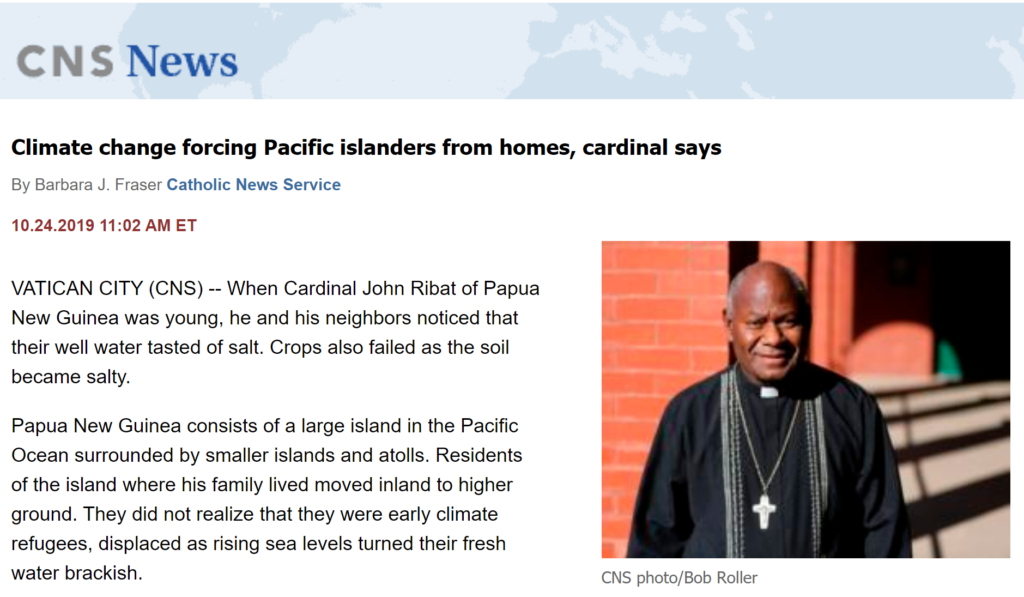 The Pacific Islands is facing the brunt of sea level rise, seawater inundation and storm surges. This community is already experiencing the worst of climate change, despite being one of the worlds smallest contributors of greenhouse gasses (CNS News, 2019). Communities around the world are struggling with the most intense consequences of climate change due to many factors. Important things to note about these communities are:
they are more socioeconomically disadvantaged and lack basic needs
the Pacific and Torres strait islands are having to face the possibility of relocation due to rising sea levels
where people are most affected by climate change, movement due to loss of land caused by rising sea levels will cause more climate refugees and political instability (McDougall, 2019)
The Role of Laudato Si'Laudato Si'helps us understand how we are all interconnected, how we not only need to think of a generation of a specific type of people to make sure that climate related issues do not affect in the long term, but generations after that of all humans, specifically those who are most affected by climate related issues as an interdependence world is a more conscious of the decisions we are making which are negatively impacting our common home.
The importance of listening to Indigenous people
Laudato Si 'discusses our common home– a home share by both humanity and God's creation in nature. It explores our relationships with Indigenous peoples, and emphasises that we must engage in both dialogue and learning from these custodians of the land.Laudato Si' emphasises that the land is not just a resource to be used – it is Indigenous culture, connection to ancestors and the bearer of their belief systems. Indigenous people are often excluded from conversations surrounding climate change. Those in the Torres Strait Islands, the Pacific and low-lying coastal communities are disproportionately affected by climate change, as are the rural and urban poor.
How can we respond?
The Catholic Church and development NGOs are already working with those who are the most affected by climate change, working with communities to determine ways in which together, we can care for creation and their own homes. Addressing this challenge goes hand-in-hand with the advocacy work, and fossil fuel reduction campaigns of countless people working in social and environment justice. Just some of the organisations and agencies working in this space include:
Pacific Warriors
AYCC
org
Catholic Mission
Pacific Calling Partnership
Caritas
Linkages to Catholic Social Teaching
The stewardship of creation is a major theme of Catholic Social Teaching, and we can apply this concept to the challenge of environmental racism. As stewards of creation, we continually 'act global, by thinking local 'on the environment. Personal initiatives such as recycling, using reusable products instead of disposable products and striving for a lower carbon footprint reflect our commitment to creation.Laudato Si'calls on us to go beyond, to support and advocate for the cry of the poor, those adversely affected by climate change, and by doing so – directly address the roots of environmental racism.
Further resources
We've collated the resources below from both Catholic, Christian, academic and news sources below on environmental justice and environmental racism. Good Samaritans on sea level rise and the drowing of Pacific Island nations
https://www.goodsams.org.au/article/disappearing-lands-and-displacement-where-do-these-people-fit/
The Guardian, on the environmental racism
https://www.theguardian.com/environment/2019/mar/08/climate-changed-racism-environment-south
Health impacts of environment racism by leading academic health journal,The Lancet
https://www.thelancet.com/journals/lanplh/article/PIIS2542-5196(18)30219-5/fulltext
A critical look at environmental racism and the (environmental) social justice movementFrom the Ground Up : Environmental Racism and the Rise of the Environmental Justiceby Cole, Luke W., and Sheila R. Foster (2001). ISBN-13: 978-0814715376; ISBN-10: 0814715370. From $25 online.