We'll be hosting two workshops and a stall at the Australian Catholic Youth Festival in Perth this December!

Hold up – what's ACYF?
The Australian Catholic Youth Festival (ACYF) is a national gathering of Catholic young people established by the Australian Catholic Bishops Conference (ACBC). It exists to provide young people with opportunities to deepen their relationship with Jesus, be empowered to be disciples in the world today and encounter and celebrate the vitality of the Church in Australia.
So… why are you there?
We'll be representing the voice of young people and the environment! Seriously, we're getting closer to launching the program across Australia, and we're looking for those foundational leaders and change makers (if that's you – contact us here!).
Righto, I'll come visit. Where are you going to be?
Hanging out with Caritas! Find us outdoors on the map below. Our coordinator Clare will be roving around chatting to young leaders and change makers, and searching for the next young environmental leaders of the Catholic Church.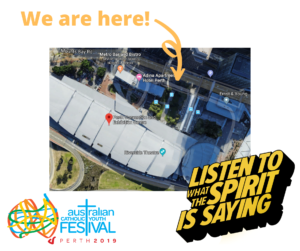 We're also holding two workshops!
Join us at 11:30am on Sunday at L2, Meeting Room 6 for 'You've been to the climate protests. Now what?'. Yep. We're guiding you through the real world actions, movement and inspiration to make positive climate, social justice and environmental change in your local school, parish, university and community.
And then again at 11:00am on Tuesday at L2, Meeting Room 6 for 'Animating for change: Living Laudato Si' for a relvant, practical and real-world take on how to draw inspiration, motivation and action from the encyclical into your own world
Instagram bunnies and Facebook fiends – we'll be on the socials too. Tag us at our workshops, the conference and feel those festival vibes using #LiveLaudatoSi, #IAmEarthcare and #greenACYF.