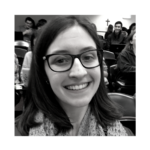 By Sian Pankhurst, 20 November 2019
When discussing environmentalism and environmental activists, most people would assume one of two stereotypes about the sorts of people who take part in these movements: Hippies or secular groups who are very left leaning.
However, there is a large movement of faith-based organisations which partake within environmental movements, including Catholic Earthcare. The reasons this post is going to discuss these organisations is not just a shameless promotion for the organisation, but also because these groups are not given enough notice or credit by wider society. So, this week's blog is going to be a look into these groups, how they work and how for Christian/Catholic organisations, how Laudato Si (2015) has influenced these organisations and what you can do to find these organisations and work with them.
The environmentalism movement is very complex because there are many different views about what parts of the environment to look after, how to undertake it and what view and image they want presented to look after the environment. These movements have been going on since the late 19th century and has led to an array of movements such as saving national parks from dam creation or oil mining (since the mid-1800s), saving towns and cities from chemical waste/infection of water which leads to health problems, forest banking and land saving from development. Even the term" tree huggers" came from an environmental movement that most people probably have not heard of. The term comes from an action in India where a group of women were fighting against deforestation, so after providing a meal to the loggers they then clung onto the trees to stop the deforestation of these forests, which actually worked. The movement and stories like this represent a variety of people who are affected and have done something about it.
This is where the faith-based organisations come in. Faith based organisations can be seen in terms of social justice and development work – just like Caritas – and this is where they are mainly seen and recognised. Faith groups provide development projects, aid work and charity work. However, there is an increasing growth into environmental and social justice movements. These movements come from all religious traditions, with the interfaith movements beginning to emerge (think of the Australian Religious Response to Climate Change, for one). White (1967) discusses how religion informs our everyday lives, our thinking and our values as people, and that there are moral and ethical reasons why these organisations are beginning to grow (Moyer, n.d.).
The now-famous quote by American lawyer James 'Gus' Speth, founder of many US Government 'think tanks' on the environment provides a concise layperson explanation of the role of environmental-focused faith organisations to wider society:
The movement to become environmentally sustainable and look after our environment can be seen through the teachings which guide these groups, whether it be through the Old Testament and Genesis for Jewish people, the teachings from the Koran, or our own Bible, following the lead of Jesus and the Dicsiples and the message of Laudato Si'. These groups play an important part in helping environmental movements grow because they draw synergies between Gods creation, humanity and the need to protect it as a spiritually-centred, moral and cultural obligation.
So, focusing on a Catholic perspective, how does Laudato Si (2015) fit in? A lot of these groups aim to help save the environment or look after the environment and to keep the land and the people who are at the most risk safe. For example, the Edmund Rice Centre and the work of the Pacific Calling Partnership to raise awareness and spur climate action to help protect the homes, land and livelehoods of our northern neighbours in Kiribati, Tuvalu and other places. Laudato Si (2015) as a document discusses the main aim to care for our common home and to look after it as it could disappear and not be left in the condition that God provided us or for future generations to enjoy. Laudato Si (2015) discusses how we are leaving this world in a mess and that if we do not do anything to look after the earth, it is not going to get any better or help look after our world. Laudato Si (2015) discusses how each organism, every rock, every ocean – it is all a creation of God and therefore is good, and we depend on these systems. As Laudato Si' discusses, the people who do the less in terms of damaging the environment are the ones who bear the most damage and consequences from these issues of climate change:
"If present trends continue, this century may well witness extraordinary climate change and an unprecedented destruction of ecosystems, with serious consequences for all of us. A rise in the sea level, for example, can create extremely serious situations, if we consider that a quarter of the world's population lives on the coast or nearby, and that the majority of our megacities are situated in coastal areas."

LS:29
Faith organisations such as the Pacific Calling Partnership step in and provide support for these groups and through this, present how they have enacted the teachings of Laudato Si (2015) by caring for their home and those within it. Catholic Earthcare Australia works closer to home, to help schools, parishes and hospitals become more sustainable. Laudato Si' demonstrates how the power of words, in looking after the environment, can be transformed into practical actions which allow for the people who are faith based oriented to respond to local and global environmental challenges.
Further reading:Tree Hugger: Origins of the Term
https://www.arrcc.org.au/greenfaith-australia
https://www.catholic.org.au/organisation-documents/catholic-earthcare-australia-1/318-bishops-position-paper-on-climate-change-1/file
https://www.columban.org.au/assets/files/pdfs/Let%20the%20Son%20Shine.pdf