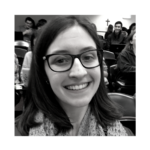 By Sian Pankhurst, 20 November 2019
A common theme across Laudato Si', environmental movements, scholarly works and broader Catholic and religious work is the importance of preserving the earth for future generations.
Many question the emphasis on future generations, when we need to focus on 'the now' and the pressing challenges we currently face. This post will discuss the concept of intergenerational justice, and draw parallels to both Church teachings and academic work.
Intergenerational justice refers the need to look after our earth, not just the next generation, but generations afterwards, because they deserve to have the same environmental resources that are available as us.
Environmental justice underpins climate change and climate injustice because the understanding of looking after the world for our children, grandchildren, and great grandchildren is one way to humanise the future challenges we face. Page (1999) discusses that it is impossible that we ask future generations to leave all non-renewables untouched for future generations, but states that we must communicate to these future generations the importance of stewardship, and we must lead by example. Renewables, alternative low-emissions fuels and other climate-forward initiatives are all ways we can lead by example and set in place the systems that support future generations to thrive in a lower-carbon world.
Intergenerational justice has become a talking point in the discussions of climate change and climate consequences because these people – future generations, who haven't even been born yet – will be the most affected by climate change. More extreme weather events, changing landscapes (desertification), and rising sea levels, for example.
Current IPCC reports and international policy suggest we – the current world population – has only 12 years to repair the damage and avoid the worst impacts of climate change. It is important that we draw this link to intergenerational justice and behaviour change – if this generation does not fix the damage caused, then future generations will have to deal with these consequences left behind by us.
Pope Francis has already shown global leadership in his work, Laudato Si', and his emphasis on intergenerational justice. It is an imperative that as much as we care for our common home, we must care for the fellow person that calls it home too. Laudato Si (2015) states that

"We can no longer speak of sustainable development apart from intergenerational solidarity. Once we start to think about the kind of world we are leaving to future generations, we look at things differently; we realize that the world is a gift which we have freely received and must share with others…"

(Laudato Si, 2015 pg. 118)
This is important because this discussion about leaving the world in the best condition for future generations because as we are the stewards of the earth, tasked with protecting it as well as looking after it. Our Church teaches us that God created the earth in its perfect form, and we are to preserve this. If we do not preserve this for future generations, and Laudato Si (2015) asks what world do we want to leave behind? Will we leave behind an inhabitable planet, or one so marred by climate change our future generations cannot enjoy His creation, in all his Glory, to the fullest potential? If we have a home that is damaged, polluted, and unloved, then our acts of stewardship are contradictory.

"You shall not pollute the land in which you live… you shall not defile the land in which you live, in which I also dwell."

Numbers 35:33-34
Further reading