We've collected resources that celebrate the Season of Creation, and practical reflective and informative works that explore the wonder and value of Care for Creation, including a comprehensive list of recommended books and websites. 

Are you an educator or teacher? Looking for school resources? Look out for the listings below marked Educators Friend for suitable primary resources. 
Reviving Creation, by Rev. Margaret Bullitt-Jones, PhD.
Episcopal Rev. Dr. Margaret Bullitt-Jonas, is an author, retreat leader, and Episcopal priest.  In a pioneering ecumenical partnership, she serves as Missioner for Creation Care for both the Episcopal Diocese of Western Massachusetts and Mass. A long-time climate activist, she believes that the ecological crisis – from climate change to the extinction of species – calls us to claim our kinship with all creation, to look deeply into our sources of hope, and to work together to build a just and sustainable future. The website is a base camp, giving people a place to rest and reflect, to learn and find encouragement.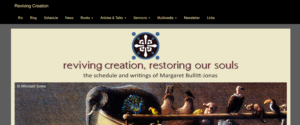 "God's Good Earth – Praise and Prayer for Creation", by Anne & Jeffrey Rowthorn. 
God's Good Earth offers Christians and their communities an engaging resource for prayer, reflection, and worship that reflects and nourishes their efforts to serve God and care for God's creation. Compilers Anne and Jeffery Rowthorn have prepared 52 beautiful, ready-made prayer services, each around a specific theme, drawing from a rich variety of ecumenical resources: psalms and other responsive readings, Scripture, hymns, prayers, and reflections from the world's most engaging nature writers and interpreters of the social and cultural landscape. Each section can be used in full, or the user may select smaller sections; permission is granted to the purchaser to reproduce for use in public prayer.  Find it on Booktopia.com.au.