With the publication of Laudato Si' by Pope Francis, the Catholic and wider community attention was drawn towards the compatibility and codependency of science, environmental and climate stewardship, social justice and spirituality.
We've collated national and international resources that look at the connections between scientific and academic rigour, with a spiritual or Catholic lens – from free university textbooks on integral ecology, to reflections on eco-theology
Authored, published or read a relevant and useful resource? We'd love to hear from you and link to your resource. Please contact us here.
---
Climate Visuals
Climate change meets social justice and goes beyond the stereotypical to define a deeper reality of the climate emergency. The world's only evidence-based climate change visual resource. The website contains a growing library of photographs to provide inspiration and guidance for campaigners, picture editors and communications practitioners selecting imagery for communicating climate change.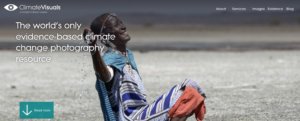 Healing Earth, from Loyola University Chicago, IN
Unlike any other environmental science textbook, Healing Earth presents an integral, global, and living approach to the ecological challenges we face on our extraordinary planet. Academic and secondary-school appropriate audience.