Earthcare Parishes
Catholic Earthcare has launched the Earthcare Parish program to assist parishes on the journey to become Living Laudato Si' communities.
Step 1 is to undertake the registration survey
Step 2 is to start the journey to create a Laudato Si' action plan using the seven goals.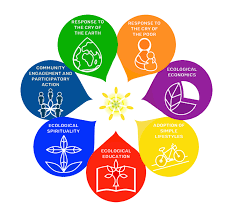 Dioceses/Parishes embarking on a 7-year journey towards integral ecology).
Step 3 is to work towards becoming  a Five Leaf Eco parish by undertaking the accreditation process here
For ideas to assist you with your journey to become an Earthcare Parish visit the Parish ideas page