Our youth coordinator Clare Vernon gathers with 18 incredible young leaders and changemakers in Sydney, to design CAS3 – our inaugural Catholic Earthcare Sustainability and Climate Summit.
Inspiration. It's one of the perks of working with young people, and they continue to amazing (and perhaps age) me. They bring optimism and a bright light to the climate crisis – and despite the mountain of scientific evidence that we're on track for a potentially disastrous future climate, they continue to persevere and push for a better future.
This energy can be ignited when you bring 18 incredible, inspirational young people, from across the Greater Sydney region together to create a summit lead and designed by them. Our leaders travelled far and wide, coming from the Diocese of Broken Bay, the Illawarra, Maitland and Newcastle, Bathurst, Parramatta, and the Sydney Archdiocese. Together we brainstormed, created, scopeed and designed their youth environmental summit, CAS3.
We gained exceptional insight into the climate crisis facing Millenials, Generation Z, and the next generation. It is a message of fear, of hope, and of the need to take urgent action now.
"The climate emergency for me means that our Earth will soon become unlivable. It means we are hurdling (sic) towards a Sixth Mass Extinction by 2050 which could see us all die out because of our own selfish actions. "

"Unfairness that this climate issue hasn't been managed by humanity and is now left to us."

"I feel responsible for the fight for the justice of the Earth and I feel guilty about my carbon footprint."

"The youth are in charge and need to lead through this climate emergency."

– Student response to 'What does the climate emergency mean for you?' – Student response to 'What does the climate emergency mean for you?'
And our leaders – and their schools – are leading the way in sustainability, awareness and creating a community of change. Here is just some of the work being conducted – right now – in our Leaders' schools!
#plasticfree by 2020
Composting
Return and Earn fundraising for the environment committee (!)
Trash tag
Waste-free lunches with biodegradable canteen options
Solar panels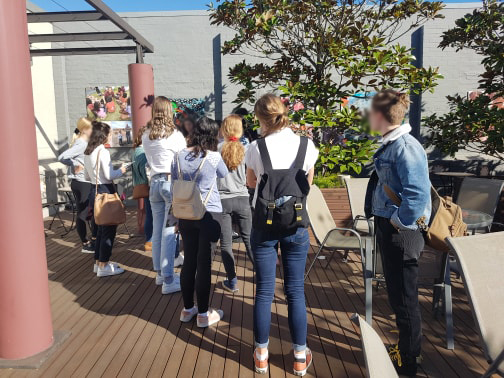 So what is the summit looking like?
Big! Our leaders brainstormed some seriously creative, out-there and just brilliant ideas to implement at the summit. From Kahoot! (don't worry – we had to Google this too), to zero waste with vegetarian catering, sharing experiences and strategies, social media engagement and really engaging their peers to raise awareness, and show leadership through action.
Our Student Leaders have left assigned to four task forces, on Faith, Logistics, Marketing and Social Media. They're excited, switched on, and occasionally mentioning social platforms, memes and movements that this social media manager is still catching up on.
We've been left with excitement, gratitude, and the privilege to share this journey with some exceptional young leaders and change-makers. I'm excited about the ride.