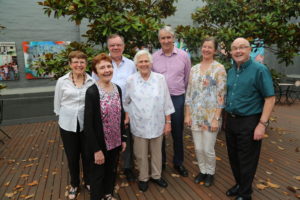 The membership of the Catholic Earthcare Reference Group is recommended to consist of the following eminent Catholics
Sr Veronica Lawson RSM
Trish Hindmarsh
Fr Denis Edwards
Mr Chris Carlile
Mrs Sue Martin
Sr Mary McDonald SGS
* Denotes new Members for The Catholic Earthcare Reference Group
Please note that Mr David Hutton and Dr John Williams who were members of the previously formed Earthcare Advisory Council were unable to continue due to other commitments. 
Veronica Lawson
Veronica Lawson RSM PhD is an Australian Sister of Mercy and the first woman to be elected to the presidency of the Australian Catholic Biblical Association (1988-89).
She is probably best known for her online Sunday gospel reflections which have a global circulation. Her recent publication, The Blessing of Mercy: Bible Perspectives and Ecological Challenges, has been widely acclaimed as a significant resource for the Jubilee Year of Mercy. Veronica is active in her Diocese of Ballarat, helping to form Catholic Earthcare: Ballarat and coordinate responses to Laudato Si.
Trish Hindmarsh
Trish Hindmarsh Cert.Teaching, BA, B.Ed., M.Theol., Ed D, has been a teacher and educational leader within Catholic Education in Victoria, New South Wales, Western Australia and Tasmania.
She spent five years as Coordinator of the Sydney-based Mission and Justice Education adult education program for teachers, schools and community development. Trish has a lively interest in justice, peace and ecology. She is a member of the Catholic Earthcare Australia Council, Tasmanian Catholic Justice and Peace Commission and the St Vincent de Paul Society. She spent six years as a senior consultant working with groups of schools within the Sydney Catholic Education Office and five years as Director of Catholic Education in Tasmania, from which she retired two years ago.  Her doctoral studies relate to education for sustainability within Catholic school settings. She continues active involvement with schools and Catholic education systems as well as at the local parish level in Burnie Tasmania.
Denis Edwards
Denis Edwards is Professorial Fellow in Theology at ACU and is a priest of the Archdiocese of Adelaide.  His teaching is in the areas of God the Trinity, Christology, Ecclesiology and The Theory of Creation. He is Fellow of the international Society for Science and Religion, and a member of the International Methodist-Roman Commission and of the Australian Anglican-Roman Catholic Commission. He is very active in research and writing with publications including: Christian Understandings of Creation (2017); The Natural World and God(2017), Partaking of God: Trinity Evolution and Ecology(2014). Denis is a key member of the Adelaide Catholic Education Councils advisory committee for Ecological Conversion a 
Chris Carlile
Chris Carlisle M. HSM, B.Theo, M. Sc: Guid & Couns., Grad Dip Psyc, Assoc Dip Rel. St., served on the Caritas Australia National Council for 11 years.   He worked for several years in developing countries, Bougainville (1 year) and the Philippines (3 years). From 1992-2000 he worked in a torture/trauma rehabilitation service and since 2000 he has been in the Commonwealth Government moving across several Departments – Department of Social Services (7 years); Department of the Prime Minister and Cabinet (5.5years) and Department of Health (6 years). Chris a wealth of knowledge and understanding of Government, governance and public policy processes. 
Mrs Sue Martin
Sue Martin B. Ag Sc., Grad Dip Ed, Cert IV in Carbon Management and Assessment and Training, has a lifelong commitment to environmental education within local government, schools and associated movements. Sue is currently the Sustainability Coordinator working within St Ignatius College, Riverview, the part-time Parramatta Diocese Earth Ministry Project Officer and was NSW Government Environmental Educator of the year in 2010. Sue also facilitates the NSW Catholic Sustainable Schools Initiative. Sue was the Jesuit (JCAP) ecology delegate 2016/18 Philippines and COP23 Bonn catch Up Amazonia 2018. In 2016 she was also trained as a Laudato Si animator. Sue brings with her a wealth of 'on the ground' experience and extensive knowledge of the Catholic ecology networks.
Sr Mary McDonald SGS
Sr Mary McDonald, Ph D, ACU Doctor of the University M.A.; M Ed.; M Theol.; M Env Ed. Dip Teaching, B.A. B.Ed Studies. Dip Ed Admin, FIAQ., brings with her a wealth of leadership experience as Director of Catholic Education (Townville: 9 Years) and Chair of the Brisbane Catholic Education council (10 Years).  Apart from her membership of national and international congregational councils and commissions, Sr Mary has also been a visiting scholar as co-reader in environmental ethics at North-western University, Illinois, and has extensive experience in community based environmental action groups on the Sunshine Coast including Director of Najara, centre for Spirituality and Ecology in Nambour and member of the ethics committee for the Sunshine Coast University or 8 years.