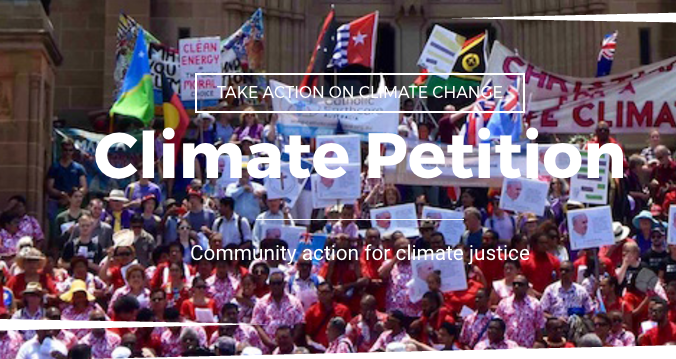 The world's poorest and most vulnerable communities – particularly in our region – are suffering the harmful impacts of climate change.
Yet Australia – one of the wealthiest nations – is not doing anywhere near enough to reduce our emissions. We are delaying the urgent action needed to shift our energy and transport systems to 100% renewable sources.
We are not providing enough support to help our vulnerable neighbours prepare for and adapt to increasingly severe climate change impacts.
It's clear what Australia needs to do. Our Federal and State Governments should help Australians manage the risks of a changing climate, seize the opportunities of the global energy revolution, and support our neighbours as they adapt to the harmful effects of climate change.
Catholic Earthcare Australia is partnering with other faith-based organisations to bring our concerns to parliamentarians through this petition. The petition is designed to allow you to easily petition your Member of Parliament with the petition below. You are invited to register below to be part of the petitioning process.
What is this petition about?
This petition calls on the Australian Government to take stronger action to reduce our emissions, transition away from fossil fuels and towards renewable energy, and support our poorest and most vulnerable neighbours as they face the increasing impacts of climate change.
Petition text
To the Honourable Speaker and Members of the House of Representatives
This petition of concerned people/citizens of [electorate name], draws to the attention of the House
the severe and urgent threat that climate change poses to the health, well-being and security of all
people around the world, particularly our poorest and most vulnerable neighbours.
We remind the House that Australia's greenhouse emissions are the highest per person among
wealthy nations while our emissions reduction targets are among the weakest.
We therefore ask the House to do all in its power to protect communities in Australia and our region
from the harmful impacts of climate change – such as more severe heat, extreme and unpredictable
weather and rising seas – by:
committing to deeper and more urgent reductions of our greenhouse emissions;

 

developing a plan to ensure Australia achieves zero net greenhouse emissions well before 2050, and supporting families and communities affected by the transition towards renewable energy and more sustainable land use;
providing additional assistance to help our poorest neighbours adapt to the harmful impacts of climate change.
How do I get involved?
1) Download the Community Climate Petition Guide & a sample petition (we'll send a version of the petition customised for your electorate after you register)
2) Register to gather signatures in your electorate
3) Got questions? Check out our FAQs