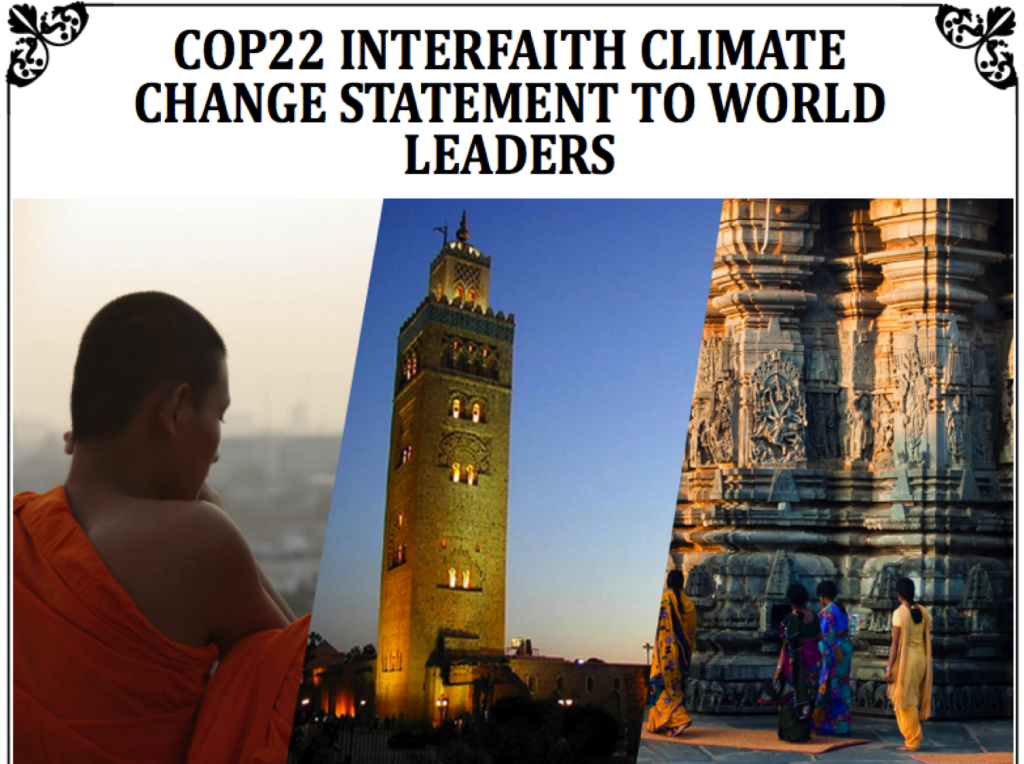 COP22 INTERFAITH STATEMENT ON CLIMATE CHANGE 10th November 2016
The COP22 Interfaith Climate Statement was signed by 303 eminent faith leaders from 58 countries from Buddhist, Christian, Hindu, Jains, Quakers, Muslim, Sikh, Unitarian Universalists, as well as Indigenous and Spritual leaders. Some eminent faith leaders who have signed are His Holiness the Dalai Lama, Archbishop Desmond Tutu, Ven. Bhikkhuni Thich Nu Chan Khong of Plum Village International Community of Engaged Buddhists, Rev Dr. Olav Fykse Tveit, General Secretary of World Council of Churches and Gretchen Castle, General Secretary of Friends World Committee for Consultation and Catholic Earthcare Australia.
"The world has lost precious time in the last few decades, as countries have held back from acting with wisdom, self-transcendence and care for the global common good. Now change needs to happen at emergency speed. We pull together as a human community, or we all lose." Sr. Berneice Loch rsm, President of Catholic Religious Australia & Leader of the Institute of Sisters of Mercy of Australia and Papua New Guinea (ISMAPNG) (Christian, Australia)
The Statement includes a call for the following actions:
This is the time to step forward and act as trustees to Mother Earth. Together, by supporting each other's progress we can go further and faster.
We therefore:
Urgently ask States to rapidly increase pledges to reduce emissions, in line with the 1.5°C goal;
Call for a collective shift by sovereign wealth funds and public sector pension funds away from fossil fuels into renewables and other climate solutions;
Strongly request an increase in global financial flows to end energy poverty with renewable energy and to provide for greater support for human and ecological adaptation, particularly to compensate for loss and damage, technology transfer and capacity building;
Appeal to all States, when taking action to address climate change, to ensure the commitments contained in the preamble of the Agreement related to human rights, including the rights of indigenous peoples, gender equality, a just transition, food security, intergenerational equity and the integrity of all ecosystems are effectively reflected in any decision adopted at the COP22;
Request stricter controls on the dispute mechanisms within trade agreements that utilize extrajudicial tribunals to challenge government policies;
Ask, including within our own faith communities, for more commitments to divest from fossil fuels and invest in renewable energy and targeted engagement with companies on climate change. We need to ground this work in pursuing a just transition to renewable energy.
For the full statement please click here.