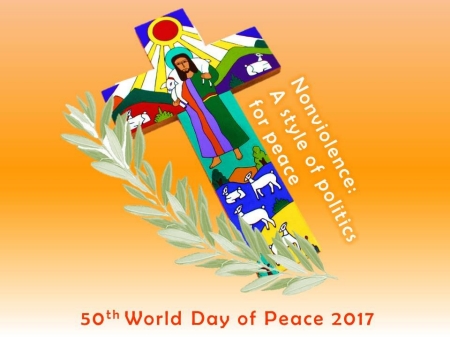 "This is the fiftieth Message for the World Day of Peace. In the first, Blessed Pope Paul VI addressed all peoples, not simply Catholics, with utter clarity. "Peace is the only true direction of human progress – and not the tensions caused by ambitious nationalisms, nor conquests by violence, nor repressions which serve as mainstay for a false civil order". He warned of "the danger of believing that international controversies cannot be resolved by the ways of reason, that is, by negotiations founded on law, justice, and equity, but only by means of deterrent and murderous forces." Instead, citing the encyclical Pacem in Terris of his predecessor Saint John XXIII, he extolled "the sense and love of peace founded upon truth, justice, freedom and love". [2] In the intervening fifty years, these words have lost none of their significance or urgency.
On this occasion, I would like to reflect on nonviolence as a style of politics for peace. I ask God to help all of us to cultivate nonviolence in our most personal thoughts and values. May charity and nonviolence govern how we treat each other as individuals, within society and in international life. When victims of violence are able to resist the temptation to retaliate, they become the most credible promotors of nonviolent peacemaking. In the most local and ordinary situations and in the international order, may nonviolence become the hallmark of our decisions, our relationships and our actions, and indeed of political life in all its forms."  Pope Francis
Click here to read the entirety of Pope Francis' message for the upcoming World Day of Peace in 2017.