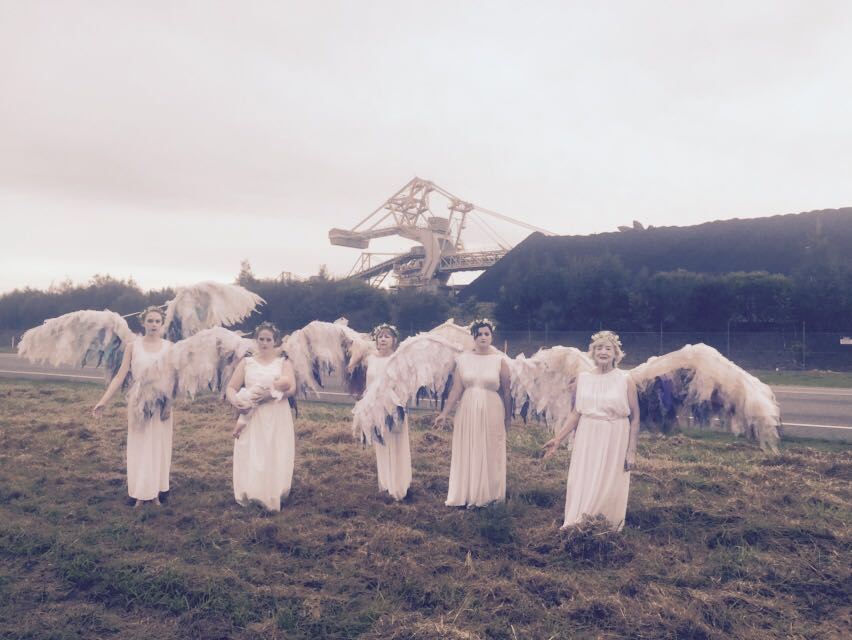 Newcastle Magistrate to consider the words of Pope Francis when sentencing the Break Free from Fossil Fuel Protestors
"The climate is a common good, belonging to all and meant for all." (Pope Francis)
These are the words of Pope Francis in his encyclical Laudato Si. His teaching is prophetic and timely "We know that technology based on the use of highly polluting fossil fuels – especially coal, but also oil and, to a lesser degree, gas – needs to be progressively replaced without delay (Laudato Si' paragraph 179)"
Pope Francis calls on every living person on the planet to take action.
"Society, through non-governmental organizations and intermediate groups, must put pressure on governments to develop more rigorous regulations, procedures and controls. Unless citizens control political power – national, regional and municipal – it will not be possible to control damage to the environment. (LS 179)"
On May 8 2016, over 1000 people shut down the world's largest coal port, Newcastle, to send a clear message to global governments that to avoid climate catastrophe we must keep fossil fuels in the ground.
66 people were arrested and ordered to appear before the Newcastle courts on September 6, 2016 to face charges. Many of those arrested had been blockading the train line that brings coal to the port for loading.
One of those arrested was Ms Maryanne Hemsley, parish secretary of St Joseph's Catholic Church, in Enfield, a suburb of Sydney. "I have been particularly struck by Pope Francis' words in paragraph 159: "Intergenerational solidarity is not optional, but rather a basic question of justice, since the world we have received also belongs to those who will follow us." I am 58 years old and can expect that I may not be personally hugely affected very much by climate change. However, my daughter and her friends, and their children and their children again, will inherit an extraordinary burden unless very strong action is taken by world governments immediately. And concern for young people motivated my willingness to be arrested. The responsibility for this threat is mine and that of previous generations: the least I can do is take the consequences of civil disobedience, and even spare some young people these in the future, if my action is helpful in bringing the government to understand that this problem is urgent and a coal-free future is an essential part of the solution to it."
On economic power, the pursuit of financial gain and environmental deterioration Pope Francis writes to us in Laudato Si':
"In the meantime, economic powers continue to justify the current global system where priority tends to be given to speculation and the pursuit of financial gain, which fail to take the context into account, let alone the effects on human dignity and the natural environment. Here we see how environmental deterioration and human and ethical degradation are closely linked. Many people will deny doing anything wrong because distractions constantly dull our consciousness of just how limited and finite our world really is. As a result, "whatever is fragile, like the environment, is defenceless before the interests of a deified market, which become the only rule".[33] (56)
"Protests like the Break Free event are bearing witness to the plight of our planets' fragile atmosphere and our struggle to protect creation, to stand in solidarity with the poor (which now includes the Earth) and for the common good," said Catholic Earthcare Australia's Director Jacqui Remond.
——————————————————
Media Contact:
(02) 8907 9500
admin@catholicearthcare.org.au
Catholic Earthcare Australia Catholic Earthcare Australia is the ecological agency of the Australian Catholic Bishops' Conference. Since 2002, Catholic Earthcare Australia has worked to stimulate and sustain an ecological conversion with all people of good will, through a range of initiatives that focus on environmental education, research, building national networks, transformation and advocacy. For more information see: https://www.catholicearthcare.org.au