We are excited to share that Catholic Earthcare Australia will be at World Youth Day 2016. Catholic Earthcare's Chairperson, Bishop Michael Kennedy and our Youth Engagement Officer, Terese Corkish, will be joining #AussiePilgrims and youth leaders from around the world at the 2016 World Youth Day celebrations. Terese will be leading workshops at the Laudato Si' Eco Village, adding her voice to the dialogue about mercy, ecology, justice and hope. Follow Terese's Krakow journey and World Youth Day experiences on our Facebook and Twitter feeds.

There are many inspirational events and initiatives to explore at the WYD2016 Laudato Si' Eco-Village in Krakow. We encourage you to register for the Laudato Si' Eco-Village events as they offer a unique opportunity to inspire community, hope and a collective vision for bringing Laudato Si' to life.
1. LAUDATO SI' ECO-VILLAGE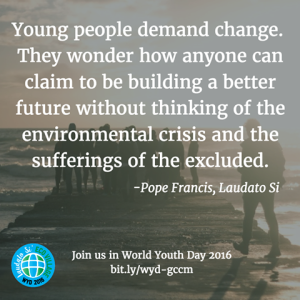 Don't miss Terese Corkish at the inaugural WYD Laudato Si' Eco-Village being organised by Catholic Earthcare's global network partner GCCM. Tess will be presenting workshops and participating in the unique space of the Laudato Si' Eco Village.
Exploring the theme of being "Merciful to God's Creation" through a dynamic mix of workshops, exhibitions and cultural performances the Laudato Si' Eco-Village has been designed to not only inspire Catholic youth leaders, but to equip everyone it touches to lead their communities in responding to Laudato Si' and caring for our common home.
Attendees will enjoy:
Half day Training Join our *new* Global Laudato Si' Youth Animators Network – register now to secure your place
Laudato Si' Concert

: Celebrate the first anniversary of Laudato Si' & express our concern & commitment to Creation through song, dance, poetry & art

Access to a Green Sacred Space:

 Reflect and pray on caring for our common home

Exhibitions

: Showcasing ecological realities around the globe, the Church's teachings on care for creation, green solutions and opportunities to engage in advocacy initiatives

Workshops:

 Learning about Pope Francis' Laudato Si', youth action on climate change and interactive cafe-style events encouraging conversation and dialogue on ecological issues.
Find our more about our WYD Laudato Si' Eco-Village – HERE

2. CONFERENCE OF THE ENCYCLICAL: INTEGRAL ECOLOGY & LAUDATO SI' – Youth as protagonists for change
A joint initiative of the John Paul II Foundation for youth/ Pontifical Council for the Laity, the Pontifical Catholic University of John Paul II of Krakow and the Committee of World Youth Day Krakow 2016 the Conference of the Encyclical will explore Laudato Si', its call to an integral ecology and the need to understand sustainable development as a way of life rather than an obstacle to overcome.
This conference will focus on the right to food and land, the relationship between sustainability and democracy, problems of supply, and the reality of the present water reserve situation.
As it is important to educate and involve young people in the dialogue around these issues – youth will be encouraged to share their testimonies on these matters and be involved at the conference along with the experts from the Scientific Committee.
To be held in the lecture hall of Jagiellonian University on 25 of July 2016, Episcopal Conferences, communities, movements, and associations that participate in WYD as well as other international organizations interested in the topic, are asked to inquire about sending representatives to participate by completing this application form.
Find out more about the Conference of the Encyclical Laudato Si' click – HERE