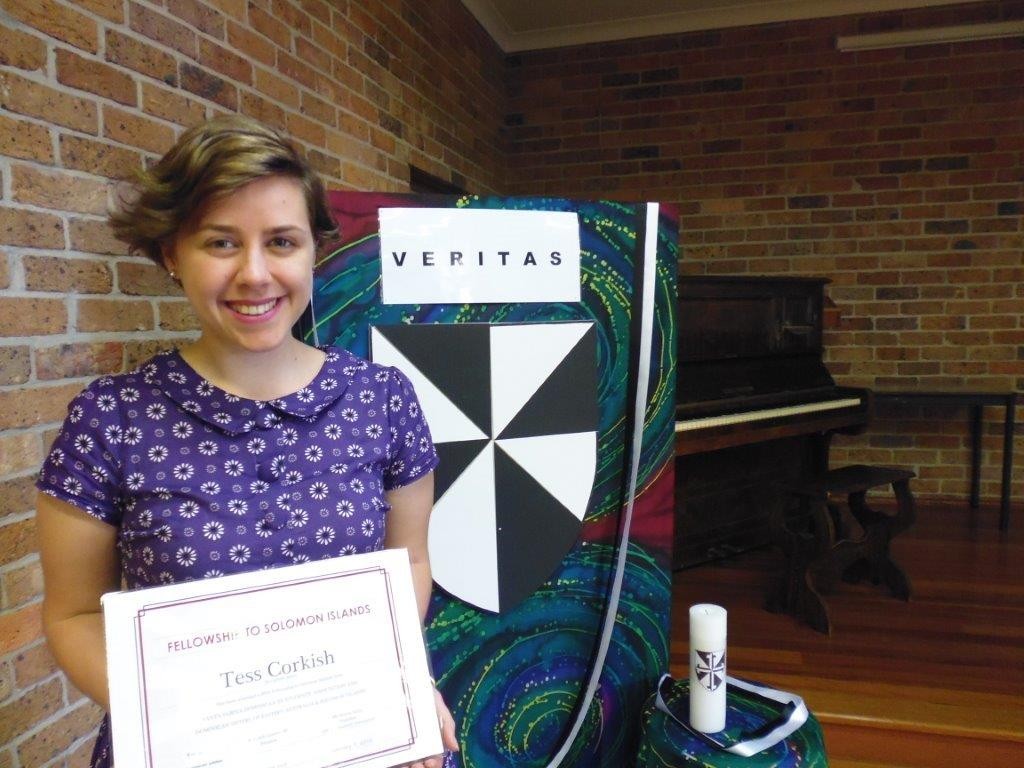 It's less than one month now before I head over to the Solomon Islands as a 2016 recipient of the Santa Sabina College Solomon Islands Ex-students Fellowship, courtesy of my Alma Mater and the Dominican Sisters of Eastern Australia. Less than one months before this internet addict who washes her hair every second day will spend two weeks on the tiny island of Wagina away from creature comforts and her mobile phone. It seems almost surreal at the moment. I once spent almost 48 hours without any internet or mobile phone access and to be perfectly honest I was pretty grumpy, and it seems almost ridiculous that I've signed myself up for two weeks of it.
It's going to be a learning curve, I tell myself. It'll drive me crazy but I'll come back a more grounded and well adjusted twenty-two year old. But to be honest, I'm pretty terrified. I'm a vegetarian and I've never been good at doing what I'm told, and I'm headed to a place where I'll be eating fish (or starving) and where they will probably kill a turtle and serve it up for me as their guest, and I'll be living in a community where the priest's word is law. I'll be coming from a place where I'm in a community of mostly white environmental activists who are driven by a sense of justice, but who probably won't be seeing the worst impacts of climate change in person until they're parents, and spending two weeks immersed in a culture so different from my own where they are living the reality of climate change and adapting just to survive.
As an opinionated extroverted only child, I'm a fan of my own voice and I love to tell my story and share my passion with others. The most important thing I can do when I head to Wagina, however, is to listen. I see my place as one of advocate and preacher (I may be a Franciscan, but I am definitely a Dominican as well), a woman of action, a fixer. The words of St Mary of the Cross Mackillop have always resonated with me; "never see a need without doing something about it". I hope that this experience will help me to practice listening. I do not go there to fix problems or to preach what I know. I go there to offer myself in service and to strike a balance between doing and being.
I strive to learn mercy, to learn patience, to learn how to listen in all aspects of my life, especially in this the Year of Mercy. I am learning to practice humility in my thoughts and actions. While I will be there to share my skills with women at the rural training school, there is joy in my heart that I will be spending time with amazing women whose experiences are at the time so similar and so different to my own.
When reading Laudato Si' one of the things that struck me so much as a young person was the mercy that God has for me as a product of my environment. There are many times when I feel crippled by the guilt of participating in the frivolous actions that permeate the culture in which I live. When I travel for fun, when I drive for convenience when I could catch public transport, when I think about the environmental impact of my food choices, but Pope Francis reminds me of the strength that it request to be counter-cultural, to choose to say no when almost all I am exposed to is saying yes. It is both hard and rewarding to live within one's beliefs. It has always been a decision between the reactions of my peers and the voice of disquiet that whispers to me in the dark. I hope the distance from the internet and the cultural influences on my choices will make room for my own mercy. When I cannot fill the holes in my life with episodes of trashy TV and computer games, there is space for contemplation and Christ.
Just last month I saw the Solomon Islands in the news. As is what happens in communities around the world, a mining company owned in a first world country (in this case, Australia) left behind toxic waste in a dam and sold the land to locals for a pittance. Last month, torrential rains sent tens of millions of litres of water into the local waterways, contaminating it with cyanide, arsenic and heavy metals. Eight thousand people rely on this river for their drinking, bathing and food, including the sister of one of the Dominican Sisters, for whom staying away from the contaminated river is not an option.
Behaviour such as this is common for mining companies the world over. They come into under resourced communities, offer jobs and prosperity, pay very little tax, leave destruction and dams full of toxic tailings, and then say that they are not responsible for the destruction that ensues. There is even less recourse against these companies from citizens whose lives are threatened and even destroyed by corporate interests. One does not need to look further than Clive Palmer's Yabulu nickel refinery to see the destruction that corporations wreak on the environment in first world, let alone where citizens do not have such a loud voice. It fills me with a burning sense of injustice and almost a sense of hopelessness that despite being covered in major news outlets around the world, there is very little that will be done about this now contaminated river and the people who will suffer because of it.
I hope that this trip will give me some perspective and some focus. I hope I learn how to be a better, more compassionate activist and an advocate for those who do not have the opportunities that I have been blessed with. I hope that the anniversary of Laudato Si' will see me as a woman who has embodied this faith with open hands, an open mind and an open heart.