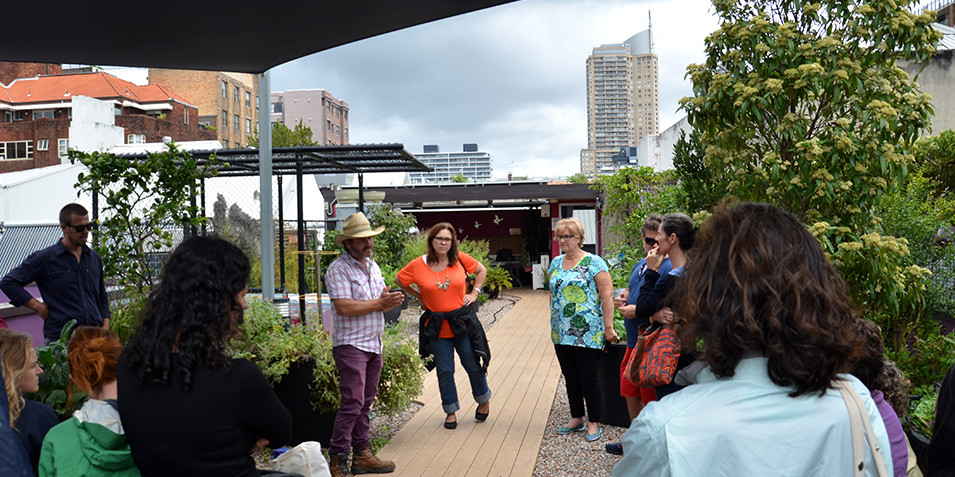 Simon Habel, Catholic Earthcare's Program Manager, reflects on his recent permaculture training and the link between permaculture and integral ecology.
In January I had the great opportunity of undertaking a two-week Permaculture Design Certificate course in Sydney. The course was offered by Milkwood Permaculture and took place at the Montessori school in Balmain, NSW. Attending the course were 25 students from around Australia and across the world, bringing fantastic diversity of cultures and knowledge.
We were all there to learn how to design spaces and landscapes that would be sympathetic to nature and work with it rather than against it. Students came together to learn how to design their own spaces, whether it be an apartment balcony or a 350 acre organic farm. I created two designs – one for my backyard and a more in depth one for a school landscape.
The ethics of Permaculture are simple enough – Care for the Earth, Care for People, and Fair Share – all living things should have an equal share of the earth's resources. These underpin a number of design principles that provide tools for a way of perceiving the world. This is a holistic and systems based approach that focuses on opportunities rather than obstacles.
The course involved field trips to community and rooftop gardens throughout Sydney that demonstrated the principles and gave us some real life examples of Permaculture in action. We also visited Michael Mobb's Sustainable House, a standard row cottage in inner Sydney that uses no electricity from the grid, collects all water from rainwater and recycles all sewerage waste into fertilizer. All while looking from inside and out like a normal house.
Many aspects of design thinking and horticulture were explored, from how to sequester carbon in your Permaculture designs to the incredible role of fungus in our ecological systems. Coming from an ecology and conservation background meant that I already had been exposed to many of these ideas, but the beauty was in the way it all integrated seamlessly with the Permaculture philosophy.
By the end of the course my perception of what Permaculture was had shifted tremendously. I had initially thought it was a system of designing landscapes like backyards through to small farms in a sympathetic manner to nature. What I came away with is a profound appreciation for looking at all aspects of how we live on the planet, from how we think, to how we interact in communities and nature. I learned that we need to work with what we have rather than try and force a design on nature to suit our needs.
Permaculture is a conscious design of the way we live that enriches the earth, while being productive and meeting our basic needs in a manner that doesn't destroy creation. It reminds me of the integral ecology Pope Francis speaks about in Laudato Si'. There is a need to take all aspects of our society and the environment into account in how we live on this planet. One cannot be sacrificed for the other. As Pope Francis says: "When we speak of the "environment", what we really mean is a relationship existing between nature and the society which lives in it. Nature cannot be regarded as something separate from ourselves or as a mere setting in which we live. We are part of nature, included in it and thus in constant interaction with it. "
Catholic Earthcare Australia will be offering permaculture design programs in 2016. For more information and to register your interest please email simon@catholicearthcare.org.au.