Catholic Earthcare Australia is proud to be a supporting partner of the People's Pilgrimage, and we would love you to be a part of it too.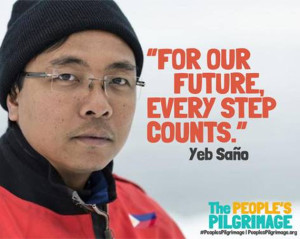 On Sunday the 17th of May, Yeb Sano embarked on a climate journey. Yeb is the former Filipino climate envoy and inspired the creation of the #FastfortheClimate movement. This year, Yeb will be traveling across the globe to sites of climate risk, resistance and inspiration, to share the stories of those facing climate change on the ground.
However Yeb is clear that this is not just about him.  This is everyone's chance to be a climate pilgrim, a climate hero and the People's Pilgrimage is a way to show how much every organisation and pilgrim cares. We want to make sure his story, your story and the journey of thousands of other pilgrims for climate action around the world are heard, far and wide.
These pilgrimages are to places at risk, to sites causing human-made climate change (coal mines, oil pipelines, etc.), to sites of resistance where communities are fighting back and to sites of inspiration which show how we can live free from fossil fuels. Pilgrims are taking both long and short journeys – anything from a few steps if they find walking difficult, to a few miles, to across continents. They are travelling on foot and by bike.  Anyone, anywhere, can take part at anytime between now and the Paris COP21 in December, which will mark the conclusion of Yeb's Pilgrimage.
These pilgrimages are a chance to reflect on our future. But our journeys, our stories are also the key to this crisis. Every step we take, every story we share, lifts up the human face of climate change. Bringing hope to those without it, or showing the reality to those that doubt it.
All of these journeys will be shared online through a special map-based storytelling platform – http://peoplespilgrimage.org/ – showing the incredible diversity of faith climate concern and action around the world.  Every step counts. Our aim is for the total number of steps taken to represent a walk at least once around the world. Let's show our leaders how small and precious our planet is!
How to take part:
We encourage our network to take part in the Pilgrimage here in Australia. Visit the People's Pilgrimage website and  join the movement today.
In June, Yeb's Pilgrimage will bring him here to Australia to visit the Great Barrier Reef. We will be joining him for part of the journey, and we would love other Australians to do the same.