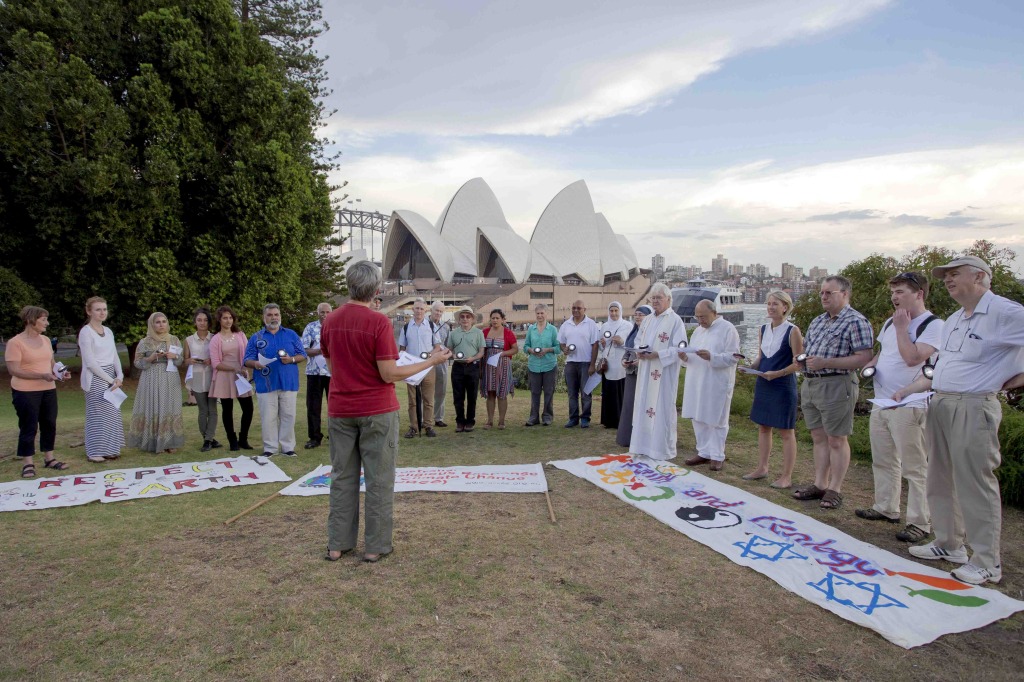 Catholic Earthcare Australia Media Release: December 3, 2014
Last night Catholic Earthcare Australia joined faith communities in Sydney's Royal Botanical Gardens to pray for action on climate change. The evening was inspired by the global faith network ourvoices.net, and was part of a series of global prayer vigils coinciding with UN climate talks in Lima, Peru from December 1 – 12.
In this solar lantern-lit vigil, diverse communities came together to pray for successful climate negations in Lima. The gathering also had a local focus, with faith groups praying for leaders here in Australia to step up and take meaningful action. It is hoped that real progress can be made in Lima, with the potential for a binding global treaty to be finalised at the UN Climate Change Conference in Paris in December 2015. Graeme Mundine acknowledged Cadigal country and the capacity for humanity to live in harmony with Creation. Mr Mundine spoke about his concern that Australia's leaders are promoting nuclear energy as part of the solution, which would replace one energy problem with another – nuclear waste and an unstable climate are both unhealthy legacies for future generations.
"Australia has a responsibility to make a significant commitment to reduce fossil fuel extraction, exportation and consumption, and shift to renewable sources of energy," said Jacqui Remond, the Director of Catholic Earthcare Australia and Convenor of the National Council of Churches Eco Mission Project. "We have a limited period of time to act in global solidarity, particularly with the people and species living in places most vulnerable to an unstable climate, such as Greenland, Bangladesh and closer to home in the Torres Strait and Pacific Islands."
Prayers were offered for all communities on Earth, especially those dependent on water from the Himalayas, and for today's youth and future generations who will inherit the problems of a disrupted climate system.
The Sydney vigil was organised by the Australian Religious Response to Climate Change together with the Faith Ecology Network, the National Council of Churches Eco Mission Project (NCCA EMP), The Columban Mission Institute and Catholic Earthcare Australia. This NCCA EMP network is part of a growing community of Churches who are committed to protecting Creation and taking action on global climate change. To make your contribution today please sign the global faith petition at www.ourvoices.net. In the words of Pope Francis, "Let us be 'protectors' of creation, protectors of God's plan inscribed in nature, protectors of one another and of the environment."