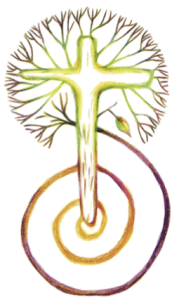 His Holiness, Pope Francis, is urging us to act:  "I urgently appeal, then, for a new dialogue about how we are shaping the future of our planet. We need a conversation which includes everyone, since the environmental challenge we are undergoing, and its human roots, concern and affect us all." (14)
The Tree of Life activity is designed to enable dialogue and invites everyone in your community to participate. It has been successful in Schools, Parishes and Catholic Agencies. The Tree of Life offers a fantastic opportunity for our church to celebrate the gift of Creation, to get creative and make a personal commitment, a communal pledge to action, to care for our common home. Why not plan a celebration in June for World Environment Day and the 1st Anniversary of Pope Francis' encyclical or at any other time during the year to actively respond to Laudato Si' and care for our Common Home?
A step by step guide:
Materials needed:
Paper or cardboard in multiple shades of green

Paper printed with a bark pattern (template available here)

Scissors

Blue tack

Felt tip pens

Butchers paper (optional)

A wall in the school, church or office.
Method
Find a large blank wall
This is where you will create the tree. If you're concerned about sticking materials directly onto the wall, or you intend to move the tree at a later date, attach a large piece of paper to the wall first.

Create the trunk
Print copies of the bark patterned paper provided (don't forget to use recycled paper!), trim the white edges and stick it to the wall using blu-tack to create the tree trunk and branches. Be creative, it doesn't need to be perfect. Better yet, why not try painting the trunk and branches onto brown paper?!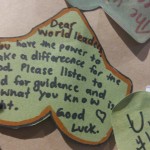 Make the leaves
Invite each person to cut out their own leaves from different coloured paper.
Alternatively, you can purchase leaf shaped post-its online (check out eBay).
Lead a dialogue
Encourage dialogue about what we can each do to protect and care for our common home. Share some of the recent Church teachings from Laudato Si' – these can be found on our website here. To get the dialogue going you might like to start with these statements on your leaves: "I pray we act to protect…"  "Laudato Si' calls us to…" "I pledge to take action by…" "Our community will respond to Laudato Si' by…"
Make a commitment
Invite each person to write a personal commitment, a personal pledge, on their leaf that is an action and if appropriate add community actions for your school, parish or agency.
Watch the tree grow!
Invite the community to add to the tree. Revisit the commitments on the tree later in the year and discover how the journey is progressing. Contact Catholic Earthcare Australia if you require assistance, support or a dialogue partner for further action.
Take a photo of your tree as it develops
Take photos as your tree comes to life and of the various leaves that people have put on the tree. Send a selection to Catholic Earthcare Australia at: admin@catholicearthcare.org.au


Our aim is to inspire, guide and support a collective journey to a more sustainable way of being in the world.
Help us continue to bring Laudato Si' to life by making a donation when you use this resource.
Download Bark graphic = Tree Trunk
Download the Full Resource