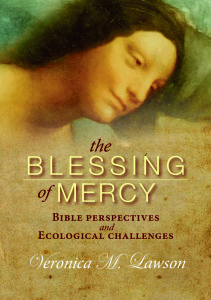 The Blessing of Mercy – Biblical Perspectives and Ecological Challenges is a new book by Veronica Lawson, a Religious Sister of Mercy and one of Australia's leading Catholic biblical scholars. It was released for the Jubilee Year of Mercy, which begun on December 8, 2015.
Sr Veronica has produced this book as a gift to the Church to help us prepare for and celebrate the Year of Mercy. She combines deep scholarship to uncover the richness of the 'mercy texts' that abound in the books of Old and New Testaments, and she invites us to re-read the biblical texts in light of the Pope's encyclical Laudato Si' with its appeal for us to listen to the cry of the Earth and the Earth's poor.
"Pope Francis has identified divine mercy as a key to our renewal as the church of Jesus in the twenty- first century, and this requires of us an immersion in the Scriptures on this issue. I know of no better way to engage with the biblical revelation of mercy than through a reflective reading of  The Blessing of Mercy."

Denis Edwards Professorial Fellow, Faculty of Theology and Philosophy, Australian Catholic University
This book is available for purchase from Christian bookshops or online at www.morningstarpublishing.net.au. We also offer weekly Sunday Gospel Reflections from Sr Veronica Lawson on our website.