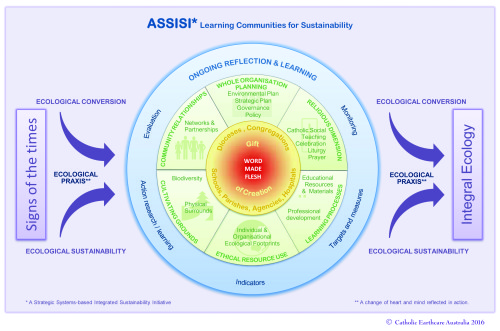 ASSISI (A Strategic, Systems-based, Integrated Sustainability Initiative) provides a theological, spiritual and practical base for sustainable development and fulfilment of a transformative ecological vision for Catholic schools, parishes and church communities, agencies and congregations.
The integrated elements that inform the ASSISI framework are captured in this visual model developed by Catholic Earthcare in 2008.
The ASSISI resources listed below offer points of reflection and guidance for how to embed and animate your organisation's ecological vision for sustainable development using ASSISI principles and processes.
Downloadable resources 
ASSISI Overview (PDF)
ASSISI Model Generic (PDF)
ASSISI Model for Schools (PDF)
ASSISI Briefing Paper (PDF)
ASSISI Briefing Paper for Schools (PDF)
ASSISI Poster (PDF)